Ooit begonnen als de eerste Nederlandse röntgen apparaten fabrikant in Delft. Inmiddels over de grenzen van de BeNeLux gegaan met Oldelft Benelux BV haar totaaloplossingen met betrekking tot röntgensystemen
Oldelft Benelux BV, met haar merknaam DelftDI, is onderdeel van de Canon Medical Systems groep en is hiermee onderdeel van een van de grootste imaging bedrijven ter wereld.
Oldelft Benelux BV heeft het hoofdkantoor in Veenendaal dat geavanceerde röntgenoplossingen en integratiegerelateerde producten ontwikkelt, dat nauw samenwerkt met andere bedrijven en partners van de Canon Group.
De organisatie wordt bemand door experts met een klinische achtergrond. Onze passie voor en begrip van de zorgomgeving staan bij ons centraal.
Als Oldelft Benelux BV is het onze missie om zorgprofessionals te ondersteunen in hun cruciale beroep. Dit door onze superieure imaging en workflow oplossingen die de kwaliteit van de zorg naar het hoogst mogelijke niveau tillen.
Wanneer onze oplossingen met patiënten in aanraking komen, respecteren wij hun privacy en creëren wij een zo plezierig mogelijke ervaring.
Wij hebben passie voor de zorg. Onze professionals zijn gemotiveerd, toegewijd en begrijpen onze klanten als geen ander. Wij maken van ideeën oplossingen!
Het is onze visie om een betrouwbaar, kwalitatief hoog en praktische oplossing te verzorgen voor onze klanten. Onze "out of the box" oplossingen met standaard componenten worden gebruikt om vrijheid te creëren voor betere diagnoses en behandelingen van ziektes.
De Oldelft Benelux BV positie binnen de Canon Group: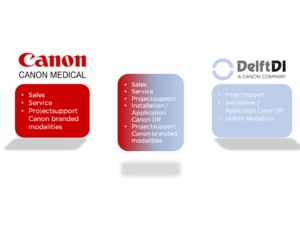 Over Canon Medical Systems
Canon Medical biedt over de hele wereld een volledig assortiment diagnostische oplossingen voor medische beeldvorming, waaronder CT, X-Ray, Ultrasound en MRI. Vanaf december 2016 is Canon Medical lid van de Canon Group. In lijn met onze Made for Life-filosofie, staan patiënten centraal in alles wat we doen. Onze missie is om gezondheidsprofessionals oplossingen te bieden die hun inspanningen ondersteunen en daarmee bijdragen aan de gezondheid en het welzijn van patiënten. Ons doel is om patiënten optimale gezondheidskansen te bieden door compromisloze prestaties, comfort en veiligheidsvoorzieningen.